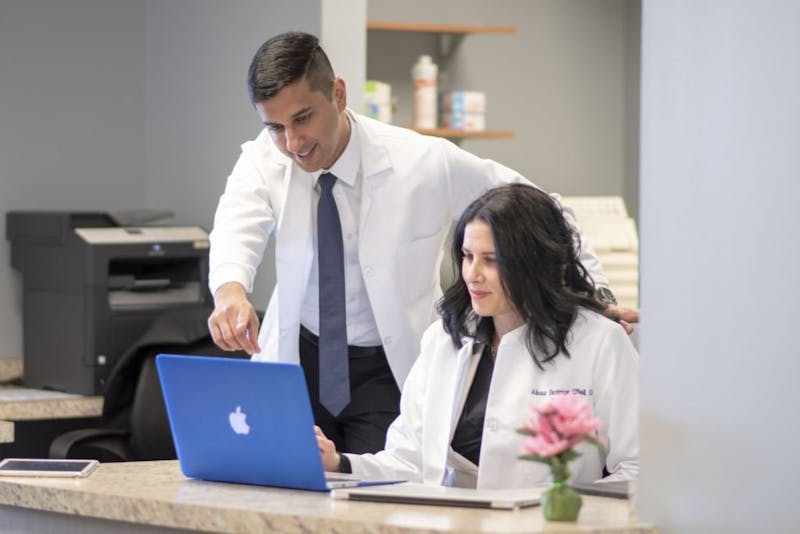 How To Find The Best Vein Doctor Near Me
IVY TRAINED VEIN DOCTORS | TOP RATED VEIN CENTER| SPIDER AND VARICOSE VEIN TREATMENT CLINIC
A Vein Doctor can just about be anyone possessing an MD or DO. Yes, even a family medicine doctor or dermatologist can open a vein clinic without any oversight. Let that sink in for a moment. Because there is no formalized training program for vein disease, physicians with little vascular are performing vein procedures including ablations with little more than weekend courses. And it's true, many of these physicians are quite capable and have refined their practices over the years to become quite accomplished. However, on the whole, there should be concern about the experience of some physicians to perform these endovascular procedures. We need to objectively evaluate each vein clinic in Princeton NJ for how their doctors are credentialed and what training experience they have. For the most part, this requires doing your own research before deciding on who is the best vein doctor for your care.
The background of physicians managing varicose vein and spider vein disease can be divided into 3 categories:
Vein Specialist
Phlebologist
Vascular Surgeons:
Vascular surgeons possess formalized training backgrounds in the management of vascular disease, both arterial and venous. Vascular surgeons must complete 5 years of general surgery training followed by 2 years in sub-specialty training for vascular medicine. In doing so, vascular surgeons undergo rigorous training in the diagnosis and management of surgical disease including endovascular, minimally invasive techniques. Cardiology and interventional radiology fellowships often work in collaboration with vascular surgery programs to provide in-depth training for trainees. With the completion of the training program, vascular surgery fellows will be tested for ABMS (American Board of Medical Specialties) board-certification to demonstrate their competency in the management of venous and arterial disease. This includes recognition as a board-certified expert to diagnose and treat varicose vein disease.
Advantages of Vascular Surgeon:
Board-certified vascular specialists with completion of intensive residency and fellowship training for vascular medicine
Best-suited to manage both simple and complex vein disease due to breadth of training
Can provide complete care for both pre and post-procedure management
Maintain hospital privileges for vascular medicine (Hospital accreditation for vascular medicine is based on board-certifications in ABMS-only recognized specialties)
Need to Consider:
Every training program has different exposures to endovascular treatments. Varicose vein disease is now managed with minimally-invasive techniques rather than vascular surgery. Be certain that your vascular surgeon treats vein disease with modern, non-surgical techniques when appropriate
Phlebologists:
Phlebologists have varied backgrounds including general surgery, internal medicine, pain management, cardiologists and even vascular surgery. The American Board of Phlebology was only established in 2007 with the goal of setting standards of vein practice but is not recognized by the American Board of Specialities due to the lack of a formal training program associated with its board certification. Phlebologists with this certification do not need to complete any formalized training programs in vascular medicine but can obtain "board-certification" simply by passing a written test. As stated above, vascular training can only be formally obtained during a fellowship in vascular surgery, cardiology or interventional radiology. During these programs, trainees undergo supervised education over several years learning technical competency and safe practices for endovascular procedures. Other residency programs including internal medicine, pain management, and family medicine simply do not provide this level of training as it is outside the scope of their practice. As such, board certification in phlebology or ABVLM (American Board of Vascular and Lymphatic Medicine) does not imply the completion of formal training in vascular medicine. Phlebologists without training in either vascular surgery, cardiology or interventional radiology should not be automatically assumed as vascular specialists.
Advantages of Phlebologists
A limited number of physicians who have additionally completed formalized training programs in either vascular surgery, interventional radiology or invasive cardiology.
A written test is rigorous and does test the physician on knowledge (not skill).
Need to Consider
Phlebologists should be examined for backgrounds in ABMS recognized specialties such as interventional cardiology or vascular surgery
A written examination is the only requirement for obtaining ABVLM certification
Phlebologists with incomplete training are not required to be experts in vascular management
Vein Specialist:
A vein specialist is used by many practicing vein doctors with varied backgrounds similar to phlebologists. Again, it should be emphasized that vein specialists should have ABMS recognized board-certification in one of three specialties: Invasive cardiology, vascular surgery or interventional radiology to demonstrate the highest level of competency in vascular disease management. ABVLM board-certification or alternatively board certification in non-vascular specialties such as internal medicine, family medicine or dermatology do not include supervised training during residency/fellowship for endovascular procedures including its potential complications. And while modern varicose vein treatment no longer requires surgery, it does not imply that a vascular specialist is not recommended.
Advantages of Vein Specialists
Vein Specialists are ideally ABMS board-certified in either vascular surgery, invasive cardiology or interventional radiology
Interventional specialties possess unique skills for minimally-invasive techniques learned during rigorous training programs
Maintain hospital privileges for vascular procedures (Hospital accreditation for vascular medicine is based on board-certifications in ABMS-only recognized specialties)
Who Is The Best Vein Doctor By Specialty?
If you have varicose veins or chronic venous insufficiency, the best vein doctor to see is an ABMS board-certified specialist with a focus on varicose vein disease. The physician you select should have specialty-specific training in vascular disease.
It's true that not all vein doctors are vascular surgeons, however considering that vascular disease management requires a significant amount of experience and skill, we recommend you consult only with formally trained vein doctors with board certification in either vascular surgery, interventional radiology or interventional cardiology.
What Are Important Considerations At A Top Princeton Vein Clinic:
Board-certified vascular specialists with formal training in endovascular procedures
On-staff vascular imaging doctors with expertise in ultrasound. These individuals have certification with RPVI (registered physician in vascular interpretation)
On-staff certified ultrasound technicians. This guarantees your diagnostic studies are following a standardized protocol and performed by knowledgeable technicians
Multiple-treatment modalities. Vein disease is not a one-size-fits-all approach and patients are best served by a team of vein specialists that can provide a full service of vein treatments. This includes endovascular techniques such as RF ablation and Venaseal, but also microphlebectomies for larger, more difficult varicose veins not suitable for sclerotherapy
Surgical stripping is no longer a necessary treatment for saving patients from more complex, painful procedures
Vein doctors should take the time to learn about your medical history, physical examination and treatment goals. Our vein doctors are given ample time for each consult, follow-up and procedure to make sure your needs are met. Please be sure to take advantage of the time.
Why Princeton Vascular Center?
The Princeton Vascular Center is a complete diagnostic and treatment center for both simple and complex vein disease. Our training and experience is what sets us apart from other vein clinics in Princeton NJ where we offer the latest technologies in varicose vein treatment. Our recognitions include NJ Top Doc, Castle Connolly Top Doctor, and Inside NJ Top Docs. Dr Brotman-O'Neill also serves as President-Elect of the New Jersey Vascular Surgical Society.