Guide to The Best Vein Clinics in America
If you are suffering from varicose veins, then it's likely that not a day goes by without seeing or sensing something is not right about your legs. For many Americans, this is the result of spider and varicose veins creating not only an unwelcome sight, but also an uncomfortable daily experience of leg pain, heaviness, or restlessness. Fortunately, vein treatment is very effective these days and non-surgical, which means no down-time. If you have made the decision to seek out relief, your next hurdle is finding a reputable vein treatment center for some personalized attention.
We present this guide to help you on your search to find the best vein specialist for your region.
Simple Rules for Selecting The Best Vein Clinics in the US
Board-certified
What kind of doctor specializes in veins? This is the most important quality to ascertain. Having a board-certified vein doctor should mean a physician with formal fellowship or residency training in vascular medicine. ABVLM or phlebology is not recognized by the American Board of Medical Specialities (ABMS) due to the absence of formal training. ABVLM is a written test only and can be obtained by anyone without procedural competency. Approriate questions to ask:
Did you perform vascular procedures in residency or fellowship?
Are you board-certified in vascular surgery, invasive cardiology or interventional radiology?
Did you perform vein procedures during residency or fellowship?
What doctor treats varicose veins at this clinic?
Does the doctor have hospital privileges to perform procedures? If the doctor cannot be credentialed at the hospital for similar work, that is a clear red flag.
Do you perform diagnostic ultrasounds for venous insufficiency?
Personalized Care
A Vein clinic should be dedicated to the diagnosis and management of spider and varicose veins. Vein disease requires a focused effort to guarantee quality and safety. Avoid medical clinics that seem to be do-it-all! You should not expect your primary care physician or pain management doctor to be the right place for your vein treatment.
Modern Vein Treatments
The most effective vein treatments are now done completely in the office and in under one hour. The procedures are minimally-invasive, which means no sutures or scalpels. In fact, the procedures can be done with little more than local anesthetic to numb the skin. The most advanced techniques include:
There is not a one approach for all patients. At the best vein clinics, you will find doctors competent with all treatment modalities to craft a tailored plan for your individual condition. While it's convenient to focus on RF vein ablation and sclerotherapy, the best results depend on having a larger set of skills.
Key Points to Remember at Your Vein Consult:
Board-certified vascular specialists with formal training in endovascular procedures
On-staff vascular imaging doctors with expertise in ultrasound. These individuals have certification with RPVI (registered physician in vascular interpretation)
On-staff certified ultrasound technicians. This guarantees your diagnostic studies are following a standardized protocol and performed by knowledgeable technicians
State-of-the-art treatments and facilities: Vein disease is not a one-size fits all approach and patients are best served by a team of vein specialists that can provide a full service of vein treatments. This includes endovascular techniques such as RF ablation and Venaseal, but also microphlebectomies for larger, more difficult varicose veins not suitable for sclerotherapy
Surgical stripping is no longer a necessary treatment saving patients from more complex, painful procedures
Call Us Today!
Let Princeton Vascular guide you to a treatment option.
Call us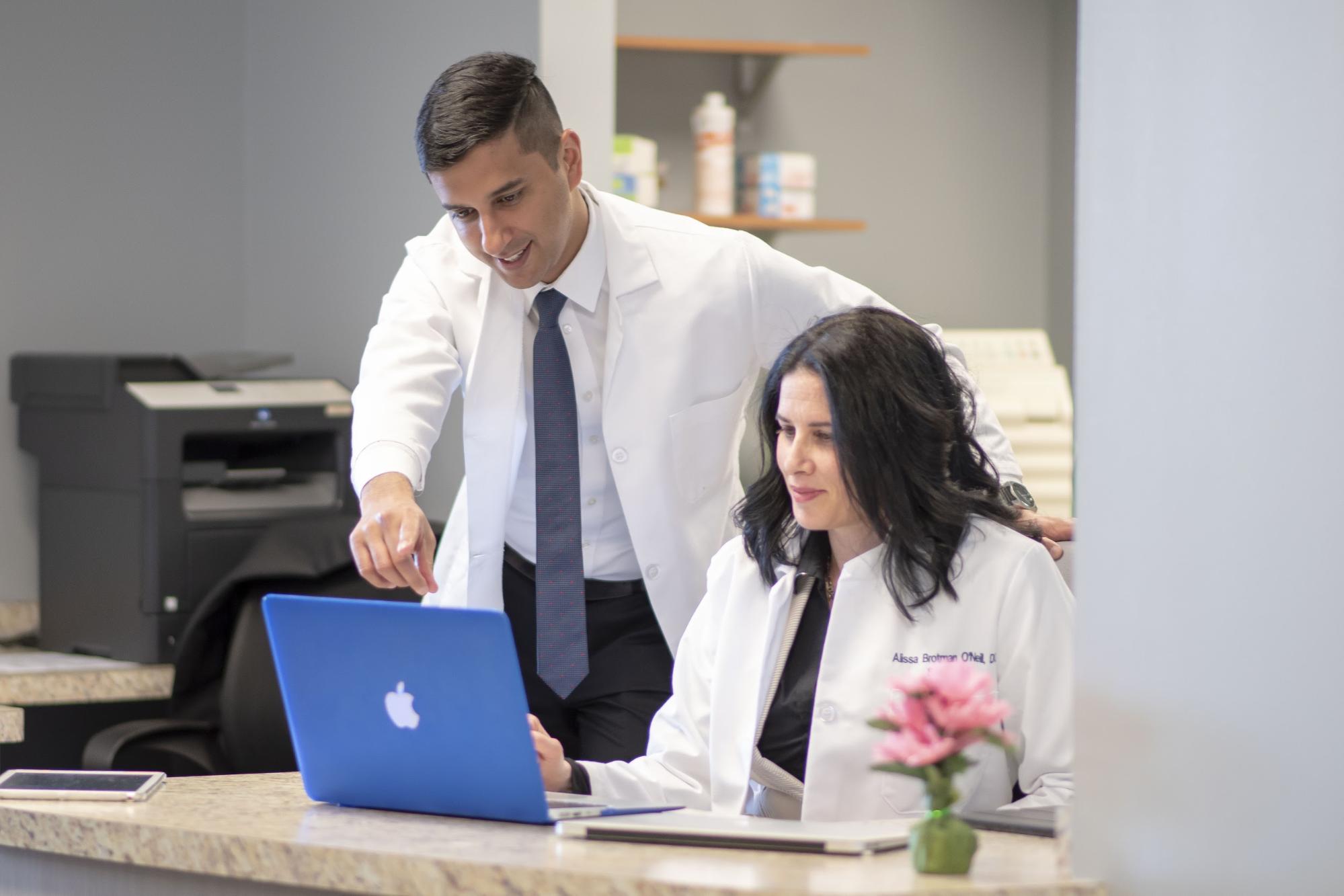 Why Princeton Vascular Centers
Our vein treatment centers in NJ are among the first of its kind to establish a collabortive group of experts from vascular surgery and invasive cardiology to treat spider and varicose veins. Our balanced approach means a tailored plan for each patient customized to preferences and anatomy. You can also feel confident in the knowledge that all our vein doctors have completed formalized cardio-vascular residency programs and have years of experience in treating vein disease. Every member of our team stays up-to-date on the latest spider and varicose vein treatments, as we are dedicated to our patients' health, comfort and success.
For more information about one of the Best Vein Clinics in America, please schedule your spider vein and varicose vein consultation today.
Locations Convenient to most of New Jersey!
Meet our Vein Doctors
Dr. Alissa Brotman O'Neill
Double Board Certified | Harvard University
Dr. Alissa Brotman O'Neill is an accomplished vascular surgeon and vein specialist in Princeton, NJ, Edison, NJ and Mt. Laurel, NJ.
Dr. Faisal Siddiqi
Double Board Certified | Yale Medical School
Dr. Siddiqi proudly offers the latest technology available for spider and varicose vein treatments at his offices in Freehold, NJ, Edison, NJ and Point Pleasant, NJ.
Dr. Simon Smith
Board Certified Cardiovascular and Vein Disease Specialist
Dr. Smith is currently serving patients at the Vein Treatment Clinic in Clifton and Wayne, New Jersey.