IVY TRAINED VEIN DOCTORS | TOP RATED VEIN CENTER| SPIDER AND VARICOSE VEIN TREATMENT CLINIC
A Varicose Vein Doctor
A varicose vein doctor is a physician that specializes in treating varicose veins and the underlying condition, venous insufficiency. A varicose vein doctor should have completed formal training in endovenous procedures during his/her residency or fellowship training. In general, these specialists have a background in vascular surgery, interventional radiology or interventional cardiology. With board-certification, these physicians are able to demonstrate a level of proficiency that meets the highest standards of the profession. Some vein doctors may possess a background in pain management, internal medicine, or family medicine. However, potential patients should be aware these specialties do not include varicose vein treatment in the scope of their practice. In the absence of formalized training in surgical or minimally-invasive endovascular procedures, some doctors will complete industry-sponsored certification courses that are not designed to meet the same level of standards.
The categories of physicians managing varicose vein and spider vein disease can be divided into 3 categories:
Vein Specialist
Phlebologist
Vascular Surgeons:
Vascular surgeons possess formalized training backgrounds in the management of vascular disease, both arterial and venous. Vascular surgeons must complete 5 years of general surgery training followed by 2 years in sub-specialty training for vascular medicine. In doing so, vascular surgeons undergo rigorous training in the diagnosis and management of surgical disease including endovascular, minimally invasive techniques. Cardiology and interventional radiology fellowships often work in collaboration with vascular surgery programs to provide in-depth training for trainees. At the end of training, vascular surgery involves testing by the ABMS (American Board of Medical Specialties). Proficient trainees are awarded board-certification to demonstrate their competency in the management of venous and arterial disease. This includes recognition as a board-certified expert to diagnose and treat varicose vein disease.
Advantages of Vascular Surgeon:
Board-certified vascular specialists with completion of intensive residency and fellowship training for vascular medicine
Best-suited to manage both simple and complex vein disease due to breadth of training
Can provide complete care for both pre and post-procedure management
Maintain hospital privileges for vascular medicine (Hospital accreditation for vascular medicine is based on board-certifications in ABMS-only recognized specialties)
Need to Consider:
Every training program has different exposures to endovascular treatments. Varicose vein disease is now managed with minimally-invasive techniques rather than vascular surgery. Be certain that your vascular surgeon treats vein disease with modern, non-surgical techniques when appropriate
Phlebologists:
Phlebologists are not uniform in background and include individuals who have not received formal training for endovascular procedures during residency or training. The typical phlebologist will have a board-certification in general surgery, internal medicine, pain management, cardiologists and or even vascular surgery. ABVLM is the board-certification to recognize phlebologist however is still not recognized as a true specialty by the Americal Board of Medical Specialites (ABMS) due to the absence of any formal training programs or standards. Phlebologists with this certification do not need to complete any formalized training programs in vascular medicine but can obtain "board-certification" simply by passing a written test. Physicians with board-certifications in internal medicine, pain management, or family medicine often sit for the ABVLM exam to increase their status, however patients should remain cautious as the test simply does not test any technical proficiency. Phlebologists without training in either vascular surgery, cardiology or interventional radiology should not be automatically assumed as vascular specialists.
Advantages of Phlebologists
A limited number of physicians who have also completed formalized training programs in either vascular surgery, interventional radiology or invasive cardiology.
Need to Consider
Phlebologists should be examined for backgrounds in ABMS recognized specialties such as interventional cardiology or vascular surgery
A written examination is the only requirement for obtaining ABVLM certification
Phlebologists with incomplete training are not required to be experts in vascular management
Does the phlebologist have hospital privileges to perform similar procedures?
Vein Specialist:
A vein specialist is used by many practicing vein doctors with varied backgrounds similar to phlebologists. Again, it should be emphasized that vein specialists should ideally have ABMS recognized board-certification in one of three specialties: Invasive cardiology, vascular surgery or interventional radiology. ABVLM or non-vascular board certifications in non-vascular specialties simply do not have the experience of a formalized training in endovascular procedures. And while modern varicose vein treatment no longer requires surgery, it does not imply that a vascular specialist is not recommended.
Advantages of Vein Specialists
Vein Specialists are ideally ABMS board-certified in either vascular surgery, invasive cardiology or interventional radiology
Interventional specialties possess unique skills for minimally-invasive techniques learned during rigorous training programs
Who Is The Best Vein Doctor By Specialty?
If you have varicose veins or chronic venous insufficiency, the best vein doctor to see is a ABMS board-certified specialist with a focus on varicose vein disease.
It's true that not all varicose vein doctors are vascular surgeons, however considering that vascular disease management requires a significant amount of experience and skill, we recommend you consult only physicians with a background in vascular surgery, interventional radiology or interventional cardiology.
Call Us Today!
Let Princeton Vascular guide you to a treatment option.
Call us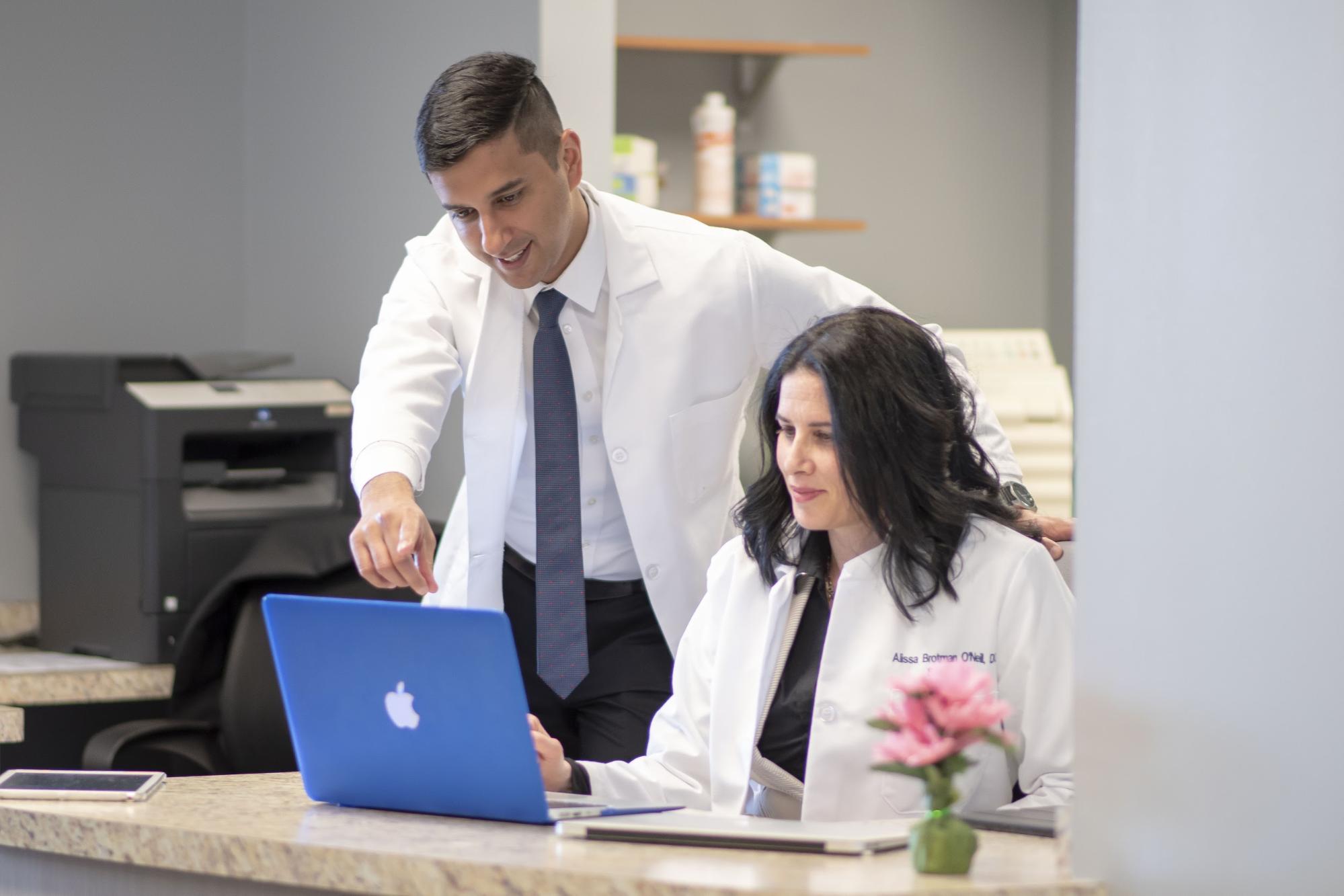 Why Princeton Vascular Center?
The Princeton Vascular Center offers modern varicose vein treatment only in the hands of the best vein specialists in the country. Our vein doctors can be trusted to have completed formalized vascular training programs and have years of prior experience in treating vein disease. Most importantly, all our doctors have board-certifications in either vascular surgery or cardiovascular disease.
With our multiple locations, you can rest assured that you can find the best vein doctor for your care anywhere in New Jersey. For more information, please schedule your spider vein and varicose vein consultation today.
Locations Convenient to most of New Jersey!
Meet our Vein Doctors
Dr. Alissa Brotman O'Neill
Double Board Certified | Harvard University
Dr. Alissa Brotman O'Neill is an accomplished vascular surgeon and vein specialist in Princeton, NJ, Edison, NJ and Mt. Laurel, NJ.
Dr. Faisal Siddiqi
Double Board Certified| Yale Medical School
Dr. Siddiqi proudly offers the latest technology available for spider and varicose vein treatments at his offices in Freehold, NJ, Edison, NJ and Point Pleasant, NJ.
Dr. Simon Smith
Board Certified Cardiovascular and Vein Disease Specialist
Dr. Smith is currently serving patients at the Vein Treatment Clinic in Clifton and Wayne, New Jersey